THOMAS E. MALONEY, JR.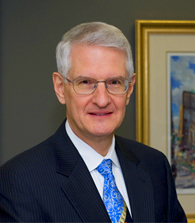 Tom represents individuals and businesses in insurance claims and litigation, corporate organizations and transactions, contracts, litigation, real estate, wills, personal injury and other matters. He also brings his years of experience to service as a trained mediator qualified by the New Jersey Supreme Court.
For over 25 years, he specialized in the representation of insurance carriers in first-party property, subrogation, insurance fraud and surety matters, representing many large and familiar insurance companies in matters throughout the Northeast United States. He served as lead or co-lead counsel in large fire cases, recovering millions of dollars for his clients (insureds and their carriers). Tom also developed a practice representing individuals, businesses, artists and non-profit entities. Tom now focuses his practice on representing policyholders in disputes with insurance carriers.
In 1982 Tom was certified by the Supreme Court of New Jersey as a Civil Trial Attorney and renewed his certification in 1989 and 1996. He has maintained an AV rating, the highest peer rating, with Martindale-Hubbell for more than 20 years.
He is admitted to practice before the courts of the State of New Jersey and the U.S. District Court for the District of New Jersey; the Third Circuit Court of Appeals and the U.S. Supreme Court. He has been admitted pro hac vice in state courts in New York, New Hampshire and Maryland; the U.S. District Court for the Southern District of New York and the Second Circuit Court of Appeals.
As an Assistant United States Attorney for the District of New Jersey for 3 1/2 years, Tom successfully prosecuted numerous crimes, including murder, kidnapping, bank robbery, forgery, hi-jacking, tax, firearms and criminal copyright violations.
Tom is a cum laude graduate of Georgetown University, College of Arts and Sciences and received his law degree from Columbia University School of Law, where he won the Jerome Michael Jury Trial Competition.
Tom is a Qualified Mediator designated by the Supreme Court of New Jersey and now conducts mediations and arbitrations of disputed matters and has lectured on alternate dispute resolution for the New Jersey Institute for Continuing Legal Education.
He also volunteers his time as an attorney at the Carol G. Simon Cancer Center at Morristown Memorial Hospital, assisting cancer patients and their families in dealing with insurance issues and other matters arising after a diagnosis.